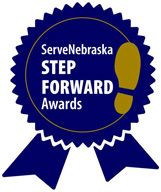 Every day, volunteers step forward, going the extra mile in their communities.
The ServeNebraska Step Forward Awards recognizes these outstanding people and groups for their time and service. Award winners will be thoughtfully selected by our governor in tribute to the significant contributions made within the state through volunteerism.
ServeNebraska is committed to doing everything we can to keep Nebraskans safe and healthy. Due to the uncertainty of the COVID-19 pandemic, the 2020 Step Forward Awards will now be a virtual event!
The Step Forward Awards will be held online on Thursday, October 29, 2020. Registration and attendance are free and we hope you enjoy this virtual experience. With luck we will see you all in person next year. Thank you!
Please click the button below to reserve your spot for the 2020 Virtual Step Forward Awards!
For questions please contact Cathleen Plager at 402-802-6865
Learn more about past award recipients: