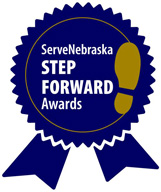 Every day, volunteers step forward, going the extra mile in their communities.
The ServeNebraska Step Forward Awards recognizes these outstanding people and groups for their time and service. Award winners will be thoughtfully selected by our governor in tribute to the significant contributions made within the state through volunteerism.
This year the Step Forward Awards will be held Thursday, October 29, 2020 at the Nebraska Innovation Campus in Lincoln, NE.
 
*The nomination deadline has been extended to July 9, 2020*
Nomination Form
*Please complete all required fields