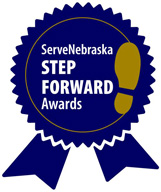 Every day, volunteers step forward, going the extra mile in their communities.
The ServeNebraska Step Forward Awards recognizes these outstanding people and groups for their time and service. Award winners and finalists will be thoughtfully selected by our Governor in tribute to the significant contributions made within the state through volunteerism.
This year, the 2019 ServeNebraska Step Forward Awards will be held Friday, October 25, 2019, at Quarry Oaks, Ashland, NE.
Note: Award Nominations will be accepted through Friday, August 30th, 2019.
Award Categories for the person/group you are nominating to be recognized and honored:
Adult Volunteer: An individual, who, age 19 or over, has demonstrated outstanding volunteer service
Youth Volunteer Leadership: An individual, who, age 18 or under, has demonstrated outstanding volunteer service. This individual may hold leadership roles in student organizations, student councils, or student service clubs where they have demonstrated exemplary leadership skills.
Volunteer Group: A group of volunteers who have served together on a common project that has impacted their community. The nominees in this category strive to make communities better places to live through ha variety of activities or by focusing on one issues of primary importance in their community.
Corporate Community Volunteer: Corporations and businesses that excel in community involvement and demonstrated excellent corporate citizenship by giving back to their community in a variety of ways. Equal consideration will be given to both large and small businesses, top nominees will be selected. 
National Service: An individual or group currently serving in a National Service program in Nebraska. This individual or group demonstrates outstanding effort to increase the quality of life in one or more communities in our state. Nominees may be serving through AmeriCorps, VISTA, Senior Corps (Foster Grandparents, Senior Companions and RSVP) or Social Innovation.
Veteran Volunteer: An individual who served honorably on active duty in the armed forces of the United States and has demonstrated outstanding volunteer service during and after active duty.
Disaster Volunteer: An individual or group that has demonstrated exceptional commitment to volunteerism by helping with a special project or ongoing activites, in preparation for or during times of disaster. Many Nebraskans have served in this capacity this year. Several top nominees will be recognized. 
Community Media Partner: Media outlets that excel in the community through their involvement and demonstrate excellent community support by giving backl to their community in various and creative ways.
Senior Volunteer: Individuals 65 or older who are taking action to make their community a better place. These individuals share their many years of experienced and are role models for others to serve and volunteer.
Lifetime Achievement: This award is the most prestigious state-level honor volunteers can receive; the people selected are those who have forever changed their community, the state, the nation, or the world with their volunteer service and action.
Nomination Form
*Please complete all required fields