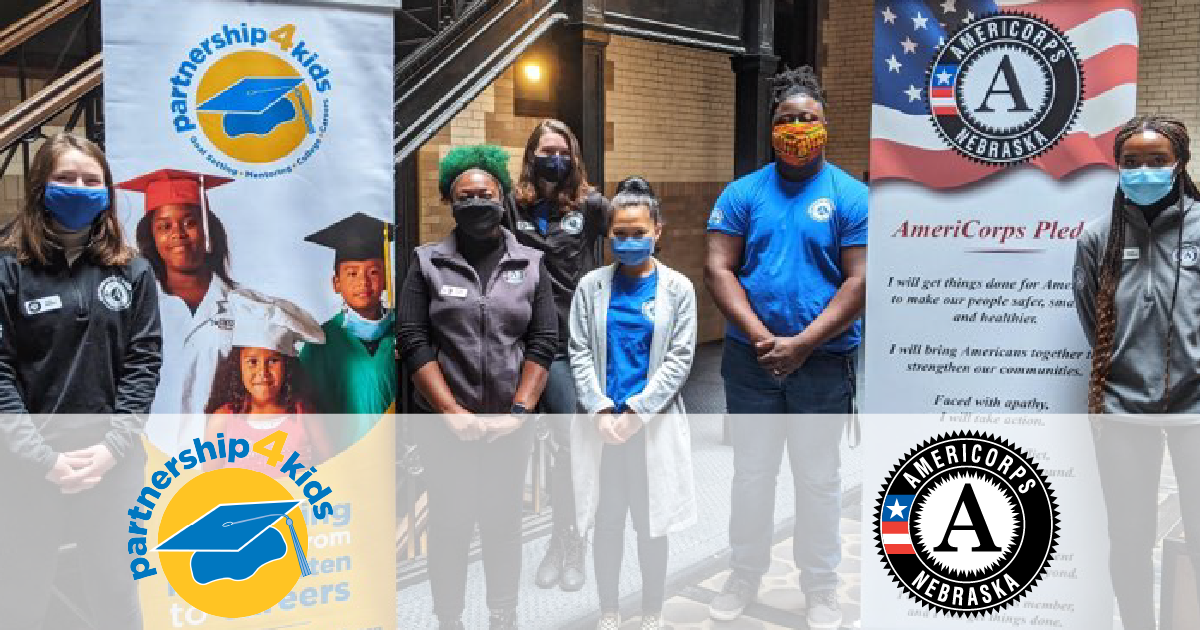 ServeNebraska: What is the Partnership 4 Kids mission?
Molly Verble: Our mission is to really serve young people, ages elementary to college, to help them access post-secondary and gain success and graduate! So we have four pillars at our organization: mentoring, goal-setting, college access, and career exploration. That's what we incorporate into our program to help our students ultimately reach their goals of graduation and careers.
SN: How many students do you serve each year?
MV: I believe around 5200 at this point, between all the students in elementary, middle, high school, and college programs. AmeriCorps members serve roughly 360 students, a nice number!
SN: How does the Partnership 4 Kids AmeriCorps program impact Nebraska?
MV: I would say that the AmeriCorps program has impacted a wide reach because we've been able to double the number of students impacted by our program. Especially those transitioning into post-secondary. Over the past three years that we've had the program, we've been able to increase our persistence rates in college by having more enhanced and intensive programming through our AmeriCorps members. It was 87% before we had AmeriCorps and then this year we had a 93% persistence rate among our college scholarship recipients. So that has really been a great impact that we've seen. And then just overall number of students going on to post-secondary has increased significantly.  So it's had a really broad impact on the community and it has helped create leaders in the community who give back to Omaha and Nebraska. We even have 3 alumni who are on our permanent staff and quite a few alumni who are involved in P4K as volunteers and then we've got doctors, lawyers, and other graduates all over the community that are more diverse and were first-generation college students.
SN: How has the P4K program adapted to a world affected by COVID?
MV: Yeah, that's been an important part of this last year's AmeriCorps program because we've had to change the way we do things to fit the needs of our students and families through remote service, through supply and food drives. I think at this point we are up to around 1300 hygiene supply bags that we have gotten out to students and families at P4K. We've been doing more home visits and well-being check-ins. There is a lot more need for mental health referrals and basic needs referrals. So I believe we've really changed the way we're doing things and we're really focusing on credit recovery, so we had to alter some of our summer programming to fit many of our youth who have been affected by learning-loss. We've been trying to adapt what we do to what the student needs and what we are hearing from them.
SN: How do students get involved as participants in the P4K program?
MV: Our students are typically referred by school staff, by counselors, sometimes by parents. We do presentations and outreach at the schools and there's an application process. We target students who are lower-income or could really benefit from having a mentor as an extra support system. So yeah, mainly through the school.
SN: Why is mentorship so important for students who participate in your program?
MV: Everyone needs a positive role model in their life and having someone there to really listen or be extra support is very critical especially with the way our families are working 2-3 jobs sometimes and trying their best to juggle so many things. They're there for their kids and wonderful, but having more people to support and check-in and serve as a role model is always valuable, especially our students who don't always have a lot of people in their lives who have gone on to college. Most of them are first-generation so to have people who have different educational levels who can show them, yeah, this is possible. You can achieve and do whatever you set your mind to.
SN: If someone is interested in becoming an AmeriCorps member with P4K, what should they do?
MV: Right now, we have everything posted on Indeed. Anyone who is interested in learning more can email me directly too. So yeah, I would go to our postings and read all the details and position descriptions, but for specific questions, contact me!
SN: In your opinion, what do you think is the single more important thing that P4K AmeriCorps members do for their students?
MV: They do so much! I think the single most important thing would be just listening and supporting them because every student's needs are different.
SN: What partners within the community, besides AmeriCorps, help you get things done?
MV: We work really collaboratively with the school staff at our schools and we rely a lot on the counselors to help students fill out our scholarship applications and call us if there are any issues. We also work really closely with various mental health providers for referrals and different programs like Boys and Girls Club, North Star, Girls Inc, and College Possible. So we pretty much use all the resources because I think the more resources a kid has access to, the more people really supporting and helping them through things, the better. But I would first and foremost say it's the schools we work with and the staff.
SN: Do you think that P4K will keep some of the adaptions which were made in response to COVID after the pandemic has passed?
MV: Yes! I think that we will do kind of a mixture of in-person and virtual because virtual options are very conducive for some of our students and families as well as our volunteers. But right now I know our kids are really missing in-person, so we look forward to doing in-person stuff but then with a little sprinkling in of virtual options.
*Answers edited for length and clarity.
If you would like to learn more about the Partnership 4 Kids AmeriCorps program, visit their website here.