Support ServeNebraska
Thank you for considering a financial donation to support the efforts of ServeNebraska.
Your investment helps to advance the ongoing success of our many innovative and diverse projects. Giving to ServeNebraska means supporting an organization that improves the quality of life in Nebraska by nurturing and supporting individuals and organizations addressing locally identified community needs.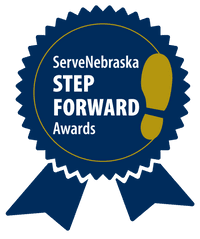 The ServeNebraska Fund is within the Nebraska Community Foundation; it was created to continue and grow ServeNebraska initiatives. Gifts to the ServeNebraska Fund are tax deductible.

ServeNebraska partners with the Give Nebraska. When you donate to ServeNebraska through this fund, you not only help countless nonprofits across the state, you also help ServeNebraska inspire volunteerism and support AmeriCorps programming in Nebraska.