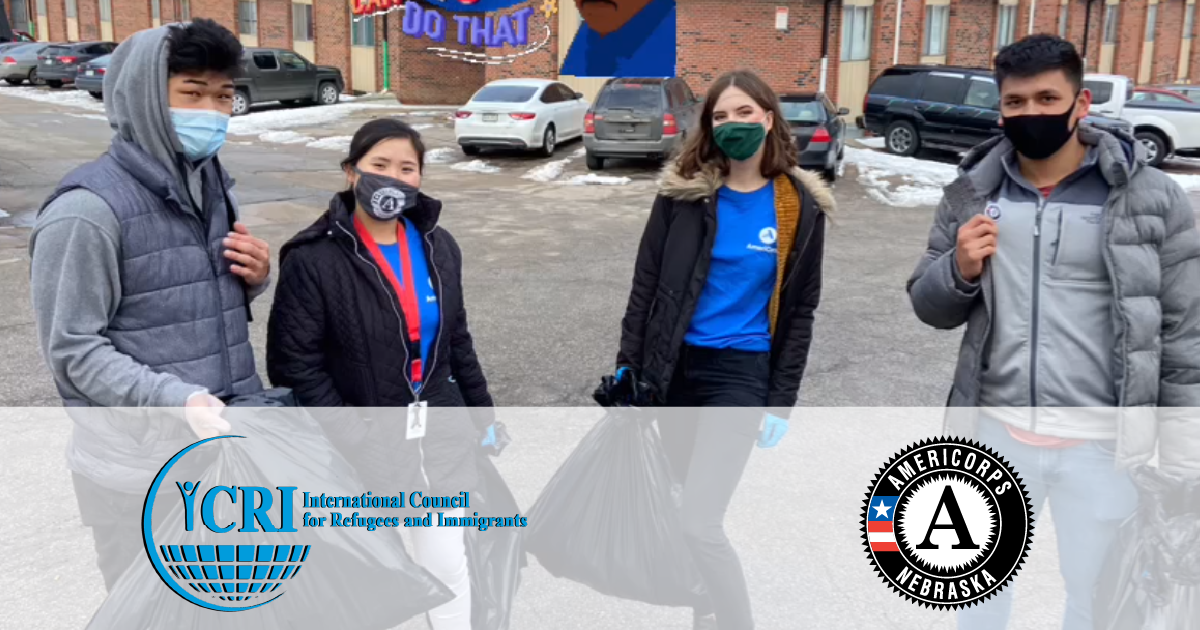 ServeNebraska: Tell us about the mission of your AmeriCorps program!
Courtney Sawle: Our organization's mission is to equip vulnerable and underserved refugees, with what they need to be self-sufficient and our AmeriCorps program mission specifically is to assist youth to improve their academic performance and their social-emotional well-being.
SN: How do you think that your AmeriCorps program makes an impact on Nebraska?
CS: Parents and teachers are sometimes just overwhelmed with all the needs. And you know, the parent and the teacher are coming from two different perspectives, two different cultures, and two different languages, and our youth specialists, they can be that bridge. And so while they are helping that youth navigate these differences, and the cultural conflict, and the language barrier, they're also helping the parent and the teacher, because they're bridging that student between those two. So what I have seen so far, our parents feel relieved that there's someone that is advocating on their behalf for their student's well-being when they don't know how to verbalize it, or they don't even know what their child needs.
And then I think the teachers [are impacted], teachers might not ever talk to the AmeriCorps members, you know, they might never even know the child is working with an AmeriCorps member. But the teacher might see that the child is asking more questions, is saying after class, and is speaking up more, because they're more confident in their English. And those are all things that happen. When their AmeriCorps member youth specialist is saying, "Oh, have you tried staying after class?" and some of these youth that we're working with, they don't even know they can do that. They don't even know that it's allowed.
SN: How has your program adapted to a world affected by COVID?
CS: Yeah, absolutely. Yes, our AmeriCorps program started in the heart of COVID. Which, in a way, I think was kind of a blessing. We never had an old style that we had to change, right? We just had a this is where we're starting from approach. So in that regard, it's been nice. What has shocked me is how much how little of a barrier is actually for connecting with the youth. It seems like these youth are so hungry for someone that understands their two cultures that they pick up the phone.
Because we didn't have before, we just have started with a lot of virtual, doing a lot of phone calls, video calls, dropping stuff off at doorsteps. And it's really hasn't been terrible. The only time it's really a challenge is when we have families that have been in the United States for less than a year. At that point, they don't have a lot of technology in the home for us to be able to do services, virtually. So there're exceptions that have been made for some of those families, if the AmeriCorps member is comfortable.
SN: How do the students, the beneficiaries of your services, become involved in your program?
We have, so far, gotten referrals from the Refugee Empowerment Center, when they've had new arrivals, and then also from Omaha Public Schools. So both of those places share about our program and then we do a lot of community based recruitment. Our AmeriCorps members come from a lot of the communities that we serve, so they do their own due diligence, spreading the word. The communities we work with are very verbal and a lot of communication is transmitted word of mouth.
So it's a little bit nontraditional in that sense. But it's because we're just going with what we think is going to be most effective for the communities we serve.
SN: Why are your services so important to youth that participate in your program?
CS: They're important because there's no other service or program like this in Omaha. It's important that they have someone in their life, who is a bridge, who has gone through what they've gone through.
What it comes down to is, I think a lot of these kids that have come to the United States, when they were children as refugees, have since been starved of any kind of education or social emotional awareness of the fact that they grew up in one culture, and now they're immersed in another. There's no class in school about that. So, if the kids don't have people in their lives, like our AmeriCorps members, to talk to them about that they're going to find their own answers. Refugee children have a really disproportionate rate of being involved in crime and gangs, and having high rates of depression and anxiety. So that's why I think our program is important. It's very preventative, from these children getting to that point.
SN: How has AmeriCorps impacted the International Council for Refugees and Immigrants?
CS: Oh, it's made our organization so much more vibrant. We were a small crew before the AmeriCorps members came and now we have just more people, more love, more new refresh perspectives. I'm not to say that our staff are not refreshing or anything, but it's sometimes fun to have new people join your team, especially ones that are in, a lot of them are in school, and they're studying the service that we provide. It's just fun to hear their perspectives. I think they bring a lot of life to our organization, just positivity!
SN: What kinds of people do you think would be most drawn to your AmeriCorps program?
CS: We've seen a draw from the refugee community. Now, in the past couple months, you know we have our positions filled, but there's different people reaching out and saying, hey, like, my friend serves as an AmeriCorps member at your organization and really enjoys it. And she told me you don't have any AmeriCorps slots, but can I volunteer? There's been four people that have reached out from these ethnic groups that want to volunteer. And by volunteer, not just like one hour a week, like more than 10 hours a week, because they're hearing about this great experience AmeriCorps members are having.
SN: What would you say is the single most important aspect of your AmeriCorps members' service?
CS: I would say, cultural awareness. I don't like the term cultural competency. You could never really be fully culturally competent, I think. But cultural awareness. And if they're not either AmeriCorps members coming from the direct experience similar to those people they're serving, they're at least very aware of how their culture is different than the culture of who they might be serving.
SN: If someone were interested in becoming an AmeriCorps member with your program, where should they start?
CS: They should email me! Yeah, email me and tell me when they're available, set up a little call, I can explain more about it to them.
SN: What partners within the community besides AmeriCorps, help you get things done?
CS: Football for the World Foundation, MENTOR Nebraska, and then obviously, there's different programs that we kind of have dual enrollment with.
SN: Do you think that you'll keep any virtual aspects that you adopted during COVID?
CS: Absolutely. Like some of our AmeriCorps members, they don't live super close to where our kids live, and maybe for these kids, transportation is a barrier. Time is always of the essence so I think they will always do some visits with the youth that are phone calls or video calls.
SN: What would you say to somebody who's looking to increase their skills in cultural awareness? How would they go about starting on that journey of becoming more culturally aware?
CS: I think the best thing to do is find a way you can volunteer with someone that's not your culture. And the first time you meet them, tell them, "I am trying to learn your culture while we are experiencing life together. And I'm sorry, I don't know what is correct and what's not. But I want to learn." I think if you just put yourself out there, in a situation that's uncomfortable, and make sure that people know you want to learn, they'll teach you.
SN: Is there anything else that you wanted to add?
CS: One last thing I want to say is, this was a very grassroots program. What our AmeriCorps members are doing, it's been very similar to what some people have been doing in connection with our organization since 2009 it's been the slow, slow, slow build. What's so wonderful about AmeriCorps is we'd had slow build, but now with AmeriCorps members and core funding, it's starting to rapidly grow. It's so exciting!
*Answers edited for length and clarity.
If you would like to learn more about the ICRI AmeriCorps program, visit their website here.