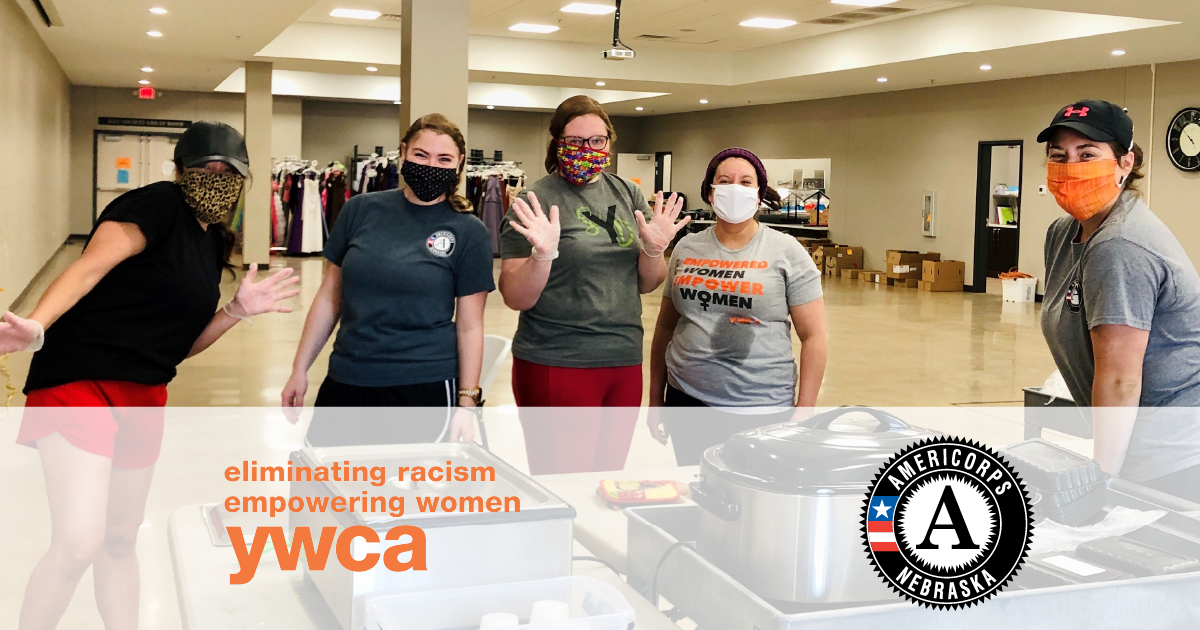 ServeNebraska: Can you tell us a little about the YWCA of Adams County AmeriCorps program mission?
Sonia Klouse: So basically our mission is to serve the community and we're lucky we're in a small town so all our host sites are close together. We have a few host sites.
At the YWCA AmeriCorps members serve with The Zone after-school program. They help with homework, they play with the kids, they do arts and crafts projects with them, and they are positive role models. The kids talk to them, they confide in them if they want to, and of course, they are mandatory reporters so we have that covered. Our member who serves in the Career Closet interacts with women, sorts donations, and assists them in picking out appropriate outfits for whatever sort of job they're looking for or whatever job they've just acquired. They'll even check in with them to see how their job is going and if they need to stop back in and get more stuff.
At the Hastings Literacy Program, AmeriCorps members serve in the class setting to support the instructors. So math and reading are the two primary ones that they are assisting with right now.
At Maryland Living Center, the AmeriCorps members assist the residents who are aging out of foster care, facilitate life-skills courses, provide case management, help them learn really good skills such as how to keep a room organized or how to keep clean. Things they might not have had prior to their residency at Maryland Living Center and supporting them after they've transitioned to independent living as well.
At Family Navigation and Diversion Services, the AmeriCorps members support that diversion program as well as provide kind of individualized case management for families.
SN: How have you had to adapt to a world affected by COVID?
SK: Obviously at The Zone they have to wear masks and participate a little bit more than they usually would in wiping down tables and making sure to remind the kids to wash their hands and keep their masks on. So from little things like that to as big as facilitating instruction in a virtual space, that would be at Hastings Literacy. At diversion, they've had to adapt services by scheduling calls with families and check-in that way rather than in person. At Maryland Living Center things have relatively stayed the same because it is residential so there's not really a way around being in person.
SN: How do beneficiaries of the YWCA AmeriCorps program access the services that you provide?
SK: All of our programs are really well known [in our community]. Because diversion and Maryland Living Center are both under the CASA umbrella, they're really very well known. Hastings Literacy is basically an institution in the community and the YWCA programs are the only programs of their type in our community. So we do advertise, but it really is just kind of word of mouth.
SN: Why do you think that the services your AmeriCorps program provides are so important in your community?
SK: The folks that we are able to recruit are of the highest quality so their presence in supporting these programs speaks for itself. When you have great people, beneficiaries are even more inclined than they already would be to come to receive services.
SN: If someone is interested in becoming an AmeriCorps member with your program where should they go?
SK: They can go to the website where we have links to that. They can also always call and talk to me directly and if there is a specific site that they are interested in, they are welcome to contact the host site supervisor as well to get more information.
*Answers edited for length and clarity.
If you would like to learn more about the YWCA of Adams County AmeriCorps program, click here.