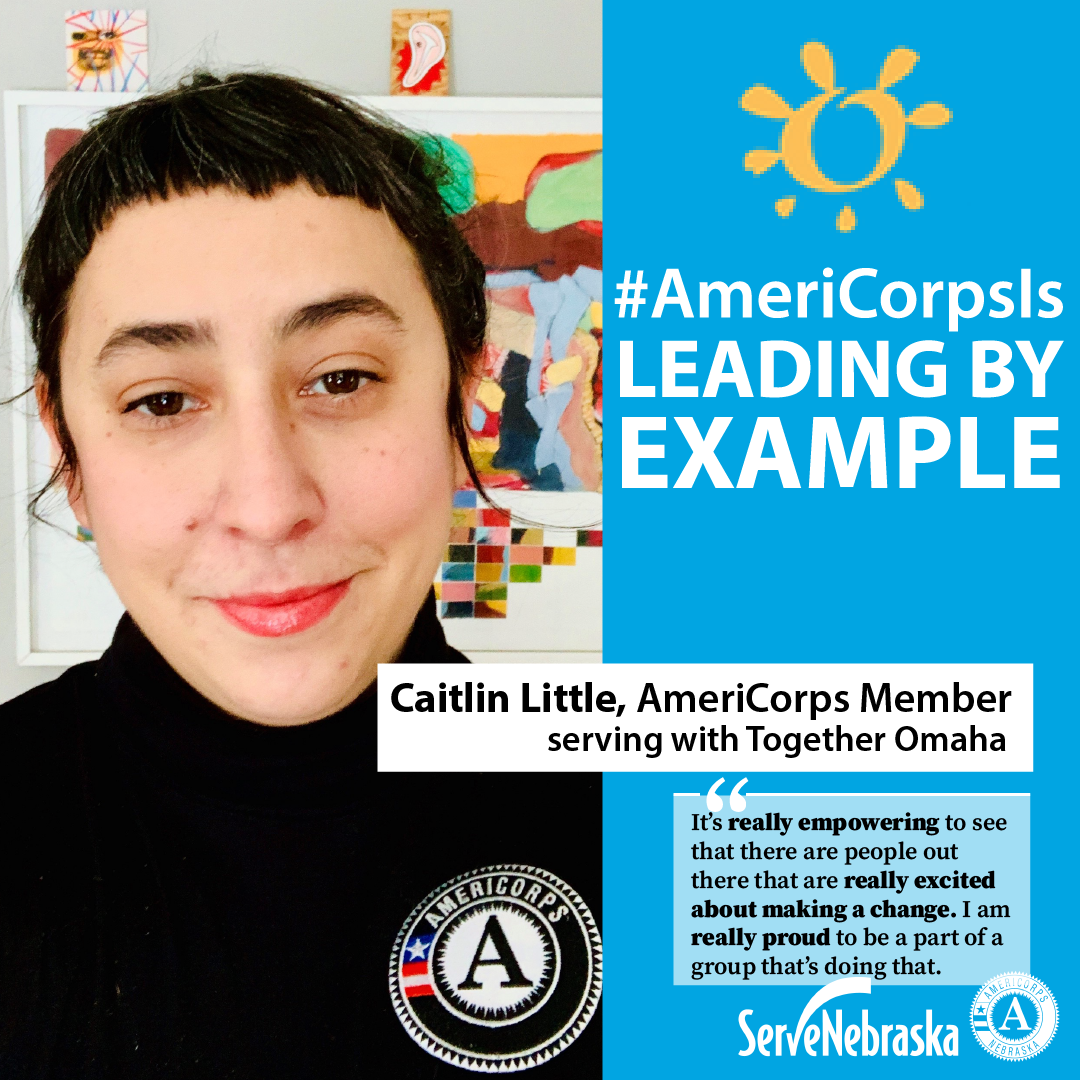 Caitlin Little is currently serving her first AmeriCorps term of service with Together Omaha! She grew up in Council Bluffs, IA, but has lived in Omaha for the last 13 years.
Among other accomplishments, Caitlin was an honoree of YNPN of Greater Omaha's 2020 Emerging Nonprofit Leader Award. 
ServeNebraska: In one or two words, what is AmeriCorps to you?
Caitlin Little: I think it's all about serving your community, like being a leader as far as helping with social issues like homelessness and food insecurity. In a nutshell, it's leading by example.
SN: How did you hear about AmeriCorps?
CL: My best friend was an AmeriCorps VISTA member and she asked me if I had heard about AmeriCorps. I got laid-off during COVID-19 because I worked at a theatre and we just didn't have any shows and I was the booking and production manager. She said I should look into AmeriCorps and so I did!
I've really enjoyed it. I worked already in the non-profit sector with the arts and so it was cool to be able to broaden my experience by serving here with food and housing insecurity. I feel like all non-profit things are connected in some way or another. It's been cool to make connections and find ways to connect the dots between the different agencies.
SN: What ultimately made you decide to join AmeriCorps?
CL: I wanted a different chance to insert myself into more community leadership. I already do a lot of advocacy for the arts in Omaha and I thought the idea of people being able to have housing and food as a human right. I also feel that same sort of way about access to arts and education. So to me, it's about accessibility. Finding more ways to be able to create accessible means of not only basic human rights, but things that people enjoy and bring communities together, is really important and something I'm passionate about.
SN: What have you learned as an AmeriCorps member?
CL: It's really interesting because I didn't know what I was getting into. It was a fairly broad position description and I have been really lucky to be able to spend a lot of time really synthesizing a lot of information about the food and housing situation in Omaha, which I think a lot of people don't really understand. It's a much bigger problem than people, in general, don't get to see. If you're not directly involved in something or in need, you don't really see it. I think it's been really awesome for me to learn not only about the current status of things but also how things have gotten the way they are. I've been putting pieces together to motivate people to become impassioned about some of the social issues that we have in Omaha so that we can all work together to fix them.
SN: In your opinion, who benefits most from AmeriCorps programs?
CL: I feel like everybody does. I know that the community benefits greatly from the services that this organization provides. Leadership within this organization is working to create stronger networks to make things better for people.
I personally have made some really good friends. It's almost like summer camp, but a little different. I was delighted by all the different personalities and the folks who were drawn to our location. They are the sweetest, kindest, hardest-working people that I've ever met. They'd give the shirt off of their back to you, but also would go sing karaoke with you. So the community is benefiting, but I also personally benefit just from being around this amazing group of people who are dedicated to the same vision.
SN: What is your average day like as an AmeriCorps member serving with Together?
CL: You know, it's different every day! Most of the AmeriCorps members here [at Together] are super flexible and able to do anything. So we get in there and do whatever needs to be done. I have helped AmeriCorps VISTA members with organizing some different programming because of my past experience, but it's all about teaming up to figure out what needs to be done and getting it done quickly and efficiently, and we have a good time doing it!
SN: What is your favorite part of serving as an AmeriCorps member?
CL: I think that it's really cool to be a part of a much larger network of like-minded people who are really passionate about human rights and making an impact in their communities. I think that's really empowering to see that there are people out there that are really excited about making a change. I am really proud to be a part of a group that's doing that.
SN: Do you have a favorite memory from your service so far?
CL: When we first started it was right in the middle of the pandemic, basically everything that was happening at Together was flopped on its head. Normally, it's a choice pantry so people come in, fill out a form, pick out a certain number of things, but it had to be switched because we couldn't have people inside of buildings because of COVID. So we were doing a drive-through pantry which turned out to be stations. One person put in milk and eggs, one person put in a box of produce, and whatever. It was gnarly, a two-hour ram-jam, well over 200 households served every day. We did that from the summertime when it was super hot, and we just came inside at the beginning of January. So, we were out in December loading people's cars. I just think about any time it was either really hot or really cold, everyone coming in and having a bottle of water and being like, "phew, we did it! How many did we do today? 200? That's amazing!" That sort of camaraderie and that feeling of it being miserable at the time, but we did it and our bodies are tired. We got our bottle of water and it feels good!
SN: How has AmeriCorps service affected your plans for the future?
CL: Well, I never had that many plans for the future. I am not that person, I barely know what I'm doing for the weekend. I have been thinking about moving for a while so this has given me a sort of deadline, like what should I do at the end of my service? Should I maybe move through AmeriCorps and find a place to do more or different service? It's given me some more options. I was considering a little bit running for some sort of political position in my city because I want to flex whatever I have, so I don't know what that looks like but potentially that means taking on some more leadership positions and getting involved in committees. This has helped me focus some of my passion in a more direct way.
SN: Has AmeriCorps changed you in any way? If so, how?
CL: Yes, I think it has for the better. It's created a lot more, sort of, outward empathy. I've always been an empathetic person, but I come off as very analytical and strategic. So, I've been able to develop a more empathetic outward voice, particularly with all the things I've been learning. Also, the team I've served with has created an opening for me. Serving with people who are so committed and so kind and generous has given me a space to just open up and be a lot more vulnerable and take chances. Because I'm not only getting a safe space, but I'm getting so much encouragement and support from everyone I serve with. It's been really awesome.
SN: What would you say to someone who is considering AmeriCorps service?
CL: What are you waiting for?!
To learn more about AmeriCorps members and programs serving in Nebraska, follow us on social media and check back to see more stories or visit our AmeriCorps programs page!
*Answers edited for length and clarity