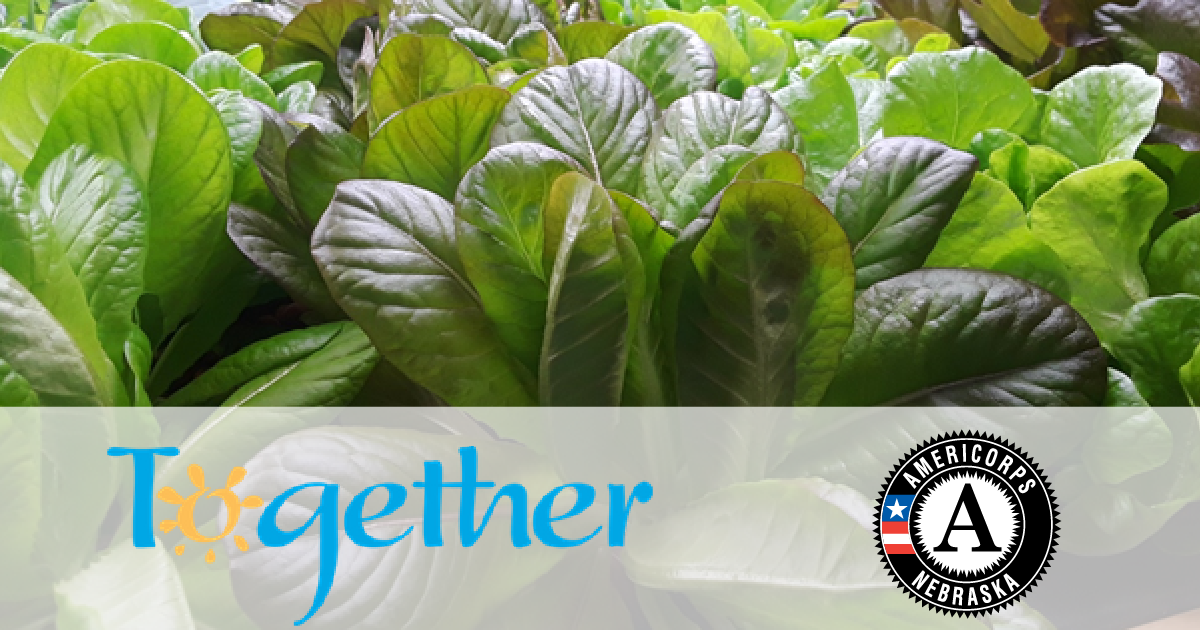 ServeNebraska: Can you tell me about the mission of the Together AmeriCorps program?
Craig Howell: Yeah, the best way to describe the AmeriCorps mission at Together is that it is a team that works around a core principle that food is a human right and that everybody should have access to nutritious and culturally appropriate choice of foods. So, within that, you have a team that serves in multiple different areas, it's making certain that we have an agricultural system in our city that is growing food. So, we have folks with Big Garden, No More Empty Pots, and Whispering Roots that are really helping those urban farms and those urban gardens grow. And then we have folks at Together that are making sure there are community gardens that the food pantry communities can just walk into and enjoy and that those gardens are beautiful, and that they're growing wonderful produce. They're just immaculate. That's important because it shows dignity for our community. Then you have the team that is working on making sure that the people who we meet at the food pantries are getting the best possible care. So, you have an AmeriCorps member who is making certain that they get into a referral system, so they get some of the best self-sufficiency care. You have an AmeriCorps team that is making sure that the public health issues are being addressed. And so that everyone is getting proper health care access. Then you have the AmeriCorps members focused on nutrition and cooking classes and nutrition classes and recipes and how to get SNAP benefits and how to get access to healthy and low-income recipes that are anyone can do and anyone can afford.
That's the AmeriCorps team. So, they're all doing something different, but it all goes into the core mission that food is a human right, everyone should have access to nutrient-dense and culturally appropriate choice of foods.
SN: How does your AmeriCorps program make an impact on Nebraska? How far does the impact reach?
CH: On any given day, I would say somewhere between, and I'm not kidding you, somewhere between 200 to 300 households are impacted, because they're making certain that every single person that comes in gets not just food, but quality food. They're making certain that if there is a bad bell pepper, that is removed, and then it is given either to a catering operation to make meals for the homeless or is going into compost for the urban farms. They're making certain that every person who they talk to, they find out what that person's need is and help navigate that person to the resources they need. They're making certain that the food that is grown in our gardens is wonderful. Today, with 15 or 20-degree weather, I was with three of our AmeriCorps members in a greenhouse, growing spinach to be served this month. So, it's not like "oh, it's freezing, look at the urban agricultural people to be doing," they're growing food right now and getting it to people. I know because I see the numbers coming through how many people are impacted by the AmeriCorps being here.
I tell the AmeriCorps team every morning, "remember that what you're supposed to be doing is significantly changing a life that is not your own," and they all get that. They know that they are here to change the lives of other people and they do it as a team.
SN: How has your program adapted to a world affected by COVID?
CH: Yeah, we were going to be having nutrition and cooking classes, those moved to video. They're on YouTube, they're on Facebook, they're on videos that are being filmed. We were going to have one on one navigation and intake systems, those are now by phone. We were going to be having people coming through a choice food pantry that our nutrition AmeriCorps was going to be designing, that's not happening now. So instead, it's how do we go through and make certain that each box that has to be put in the car or handed over to someone that it is safe. I mean, we would normally be having the AmeriCorps [members] come in, sometimes they're remote, sometimes they're here. Every time that they come in their temperature's checked by a machine before they come into the building. They have constant mask requirements, separation requirements, hand-washing requirements.
So yeah, everything has completely, completely changed.
SN: What kinds of people do you think are most attracted to become AmeriCorps members serving with Together?
CH: We always are looking for folks who agree with our mission. They quickly grabbed the importance of food as a cultural statement, and that food is not something to be hoarded or used as a sign of wealth, but [something] that has to be shared and that everyone should have the right to the same amount of food. It shouldn't be an income statement, it should be something that we all enjoy and share and break bread together. So, everyone that comes on our team has that understanding. Then there are people that have a real desire and passion to serve, someone who actually has decided, "Hey, this is something I'm supposed to do and I need to do it." So, that's the usual makeup of an AmeriCorps member with Together.
SN: How has AmeriCorps impacted what Together has been able to accomplish?
CH: You know, it's funny, I was actually chatting with some of our staff and directors meeting about that. I was always curious, I see what's going on, but what do other people on the staff at Together [see]? I hear them say that the AmeriCorps team is described as sort of a steroid shot. That they really give an energy level that wouldn't be there. Then having one of the staff say, we could not do the level of programming we do. Then hearing some folks and some of our urban farms tell us they would not have, they would not be where they're at in terms of germinating seeds and having seeds ready and having food growing, they wouldn't be where they're at right now, but for the AmeriCorps. So, they're very important.
SN: If someone were interested in becoming an AmeriCorps member with Together, where should they go?
CH: It's a competitive recruitment, and that's what I kind of want, but it always starts with eGrants, you go in and you apply in the AmeriCorps portal.
SN: In terms of skills and career preparation, what do you think that the Together AmeriCorps program offers to AmeriCorps members?
CH: If you are into food and dietetics, and food science, we are a wonderful place. Our nutritionists this year are going to be heading to graduate school to become dietitians. Our AmeriCorps members of the past, with AmeriCorps VISTA, those folks are now dieticians. One is supervising a child obesity program in Boston, another one is running an organization in St. Louis. They're faculty members at universities, they've done very well. So, if you are into food, as in the science of food or the power of food in society, this is a great place for a nutritionist to go before you become an RD [Registered Dietician].
For those people in public health, it is a wonderful spot, especially if your journey is public health in the nonprofit sector or in public health outreach with the hospital. This is a wonderful starting spot and our public health people right now are looking great about getting placed in the healthcare industry.
SN: Do you think that you will keep any of the virtual aspects that you used to adapt to the COVID pandemic after the danger has passed?
CH: Yes! We are always going to be doing nutrition and wellness programming through video. That is something that we fell in love with and we're going to be doing videos forever, I think. We'll still be doing the classes again, but we're going to also be doing video.
The other thing is home deliveries, which are now called "Sunshine Deliveries," but Together Sunshine Deliveries will always be happening. I don't know why food pantries weren't thinking earlier that there are health-compromised and senior citizens that we should never ever ask to come to a brick-and-mortar building, we should be coming to them. That's going to be permanent.
*Answers edited for length and clarity.