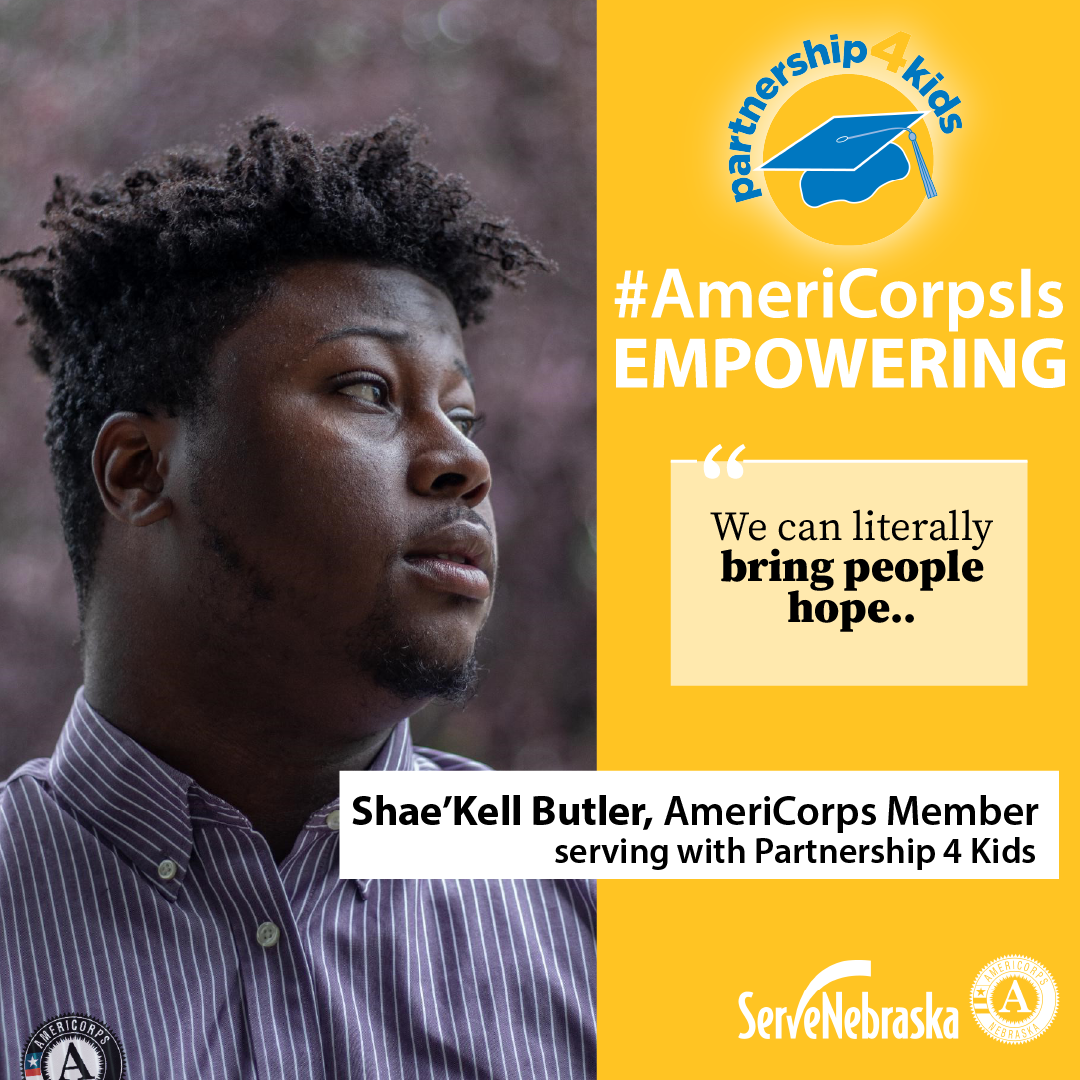 Shae'Kell is currently serving his first term as an AmeriCorps member with Partnership 4 Kids. He learned about the program when he joined as a beneficiary when he was in 8th grade and the program helped him reach success in school and stay motivated to graduate.
After graduation, he was awarded a scholarship and attended Metropolitan Community College and then UNO and majored in theatre!
ServeNebraska: In one or two words, what is AmeriCorps to you?
Shae'Kell Butler: You know, it feels good to kind of be in a position that the basis of that position is to serve. I feel like I've been gifted the opportunity to, to make a difference, you know. That's empowering to me because that's what I was blessed to have throughout my life, people serving me and making sure that I would be successful in my life. So, therefore, I'm given that opportunity to do the exact same thing. And you know, what the program is built towards, helping students give back to organizations and communities that have given to them. I think it's just the greatest thing in the world, you know.
SN: How did you hear about AmeriCorps?
SB: Partnership 4 Kids has always been good at really putting it out there about what AmeriCorps is, you know, it's a year-by-year thing. So every year, there's a need for new members. So they're always kind of putting it out that are, you know, we have based on lunch and learns for college students, especially for those who are graduating, "Hey, this AmeriCorps program, this is what it does and what it offers." So, I probably knew about AmeriCorps two years in advance. Later, I found myself in an environment where I was trying to make a difference in my community, and I met with P4K, who were asking themselves, what can we do better? We collaborated at a city hall meeting, where we were talking about various different ways that we can do better in our community to make people of color feel more accepted and more protected. Through that meeting, that's where we had the conversation, they said, "Shae'Kell, we really think that this program will be good for you." They thoroughly made sure I needed to know about it and it's a hand and glove fit if you ask me.
SN: What ultimately made you decide to join AmeriCorps?
SB: I think for me, honestly, I knew that I wanted to serve with Partnership 4 Kids because I knew what the program was about. But when I started to read about AmeriCorps, and I started to read about what it was doing for the youth. Once I realized what the program was geared towards, what it was about, what it wanted to achieve, it just made that opportunity that much more sweet. You know I've always been someone that wanted to give back and when a program is all revolving around what I've been talking about, which is giving back, which is serving, which is just having pride in wanting to do for others. I think that really kind of just sealed the deal for me, it just made me want to attach my name to AmeriCorps. So far, I haven't been disappointed. I still find AmeriCorps is still you know, reaching out, it's still sending letters in the mail. It's just the continuous support, outreach, and advice and all these opportunities, trainings, and stuff to kind of just help I guess like solidify AmeriCorps in our lives. It's just been, you know, great.
SN: What have you learned as an AmeriCorps member?
SB: Yeah, I think for one, I've learned really how to be organized. It's a year of service, but it's, it's generally a lot that we're doing, you know, the equivalent of a full time job. So I'm learning time management, I'm learning how to work with other people, how to lead other people, how to collaborate with people, how to manage people's time, effectively.
I think I'm also just kind of learning what serving means and what it can do for other people. And you know, what? My input and what my service means to people, how we can literally help people's lives, how we can literally bring people hope, just by me listening or me providing a resource that an individual may or may not be able to have access to at the time. It's teaching professional skills, but it's also teaching me life skills in a way, just to be aware of certain things and to acknowledge certain things a certain way. It's been a very, very educational experience. I've learned a lot, I would say.
SN: What is your average day like, as an AmeriCorps member with P4K?
SB: I think this year, especially is always going to be weird, because of COVID, you know. Because we're working from home half the time still, hopefully, we'll get to be in the office every day sometime soon. But with that being said, I think the average day, it's pretty much just a lot of meetings, a lot of reaching out to students, and talking to students. And you know, whether it be emails, phone calls, text messages, a lot of documentation, to make sure that every day is how it's supposed to be. It's really just kind of serving done behind the scenes that you'd never really get to see if you're on the receiving end of a program like Partnership 4 Kids. I'm really kind of starting to see what it takes to help other individuals, especially the youth be successful, it takes a lot. I kind of assumed that it was just going to be working with kids, but when I got here, I kind of saw the behind-the-scenes, a lot of sitting at my desk, on this laptop. It really makes me value the program, first and foremost, a lot more because I know what it took to help me be successful. So, yeah, that was an eye-opener.
SN: So do you have a favorite memory of your AmeriCorps service so far?
SB: I'm actually I think I think I do. Around the first few weeks of AmeriCorps, I really kind of started to see what AmeriCorps was really about and what it wanted to do and what it can do for me because of the mentorship training. Having that mentorship training, it taught me a lot. It gave me a lot to think about, a lot to grow on, as someone who considers himself a mentor. I think it just gave me faith in the program itself, that they would continue to throw out these opportunities to help us grow, to help mold us into these agents of service. It's been a fantastic journey.
SN: How has AmeriCorps service affected your plans for the future?
SB: If I wasn't already planning on devoting my life towards serving, especially serving the youth, before, I definitely am now. Because I've had first-hand experience of seeing the benefits of that. It's seeing how rewarding it is. Like I said, I've always had people who were there for me, that made sure that I was on the straight and narrow path and I just want to be able to do the same thing. You know, I feel like I've always kind of wanted to see others succeed. If an individual is in my family's life, I try to help make sure the [younger] ones are succeeding. Now that I have the opportunity to work with individuals outside of my family, it just gives me more and more belief that I can make a difference. So, you know, I consider myself an actor, I plan to pursue acting in my life. God willing I'll make something out of it, but I have no problem, say acting didn't work out, I still managed to change a lot of lives through service, and I can look back at all the pillars of my life that held me up and made me who I am today, and I can proudly say that AmeriCorps was one of them.
SN: What would you say to someone who's considering AmeriCorps service, but isn't quite sure yet?
SB: Do it! I wasn't, I wasn't sold either at the beginning, because at first you kind of just see, I think the first thing that really kind of throws people off is that they realize it's not really a job, you know, you can you have a living stipend, and you have to do things a certain way. But I feel like once you're in it, you see, first of all, why it's done the way that it is, but also, you kind of see that just how beneficial is to just be in an environment like AmeriCorps. It's an experience that you can't really get anywhere else. It's been an unforgettable adventure for me.
*Answers edited for length and clarity.
If you would like to learn more about the Partnership 4 Kids AmeriCorps Program click here.